Hi, your javascript is off..!! for optimal results on this site please enable javascript in your browser
CHEF DUFF MENU: June 23-26
To pre order 519-500-1715 info@chefduff.ca
PATIO is Now OPEN Wed. – Sat.!!
To view New Lunch Menu Click on: "CAFE" Tab above
Lunch Features
Soups
Three Sisters Soup (Squash, Corn, & Beans)
$10/Litre $6.42/Bowl
Personal Pizza
Pulled Pork, Pineapple, & Hot Peppers - $12
(See Lunch menu for full list of pizzas)
Sandwich
Smoked Turkey Panini with cranberry mayo, cheddar and sliced apple
-$15 with soup, salad or fries
(See Lunch menu for full list of sandwiches)
Ready to Heat Dinners June 24, 25, 26
(Takeout only)
Chicken Shawarma Kebabs with Lemon garlic sauce
served with Lebanese Rice, Charred Veggies and Mediterranean Salad
Family of 4 - $48 (Extra Kebab $7.99) Family of 2 - $36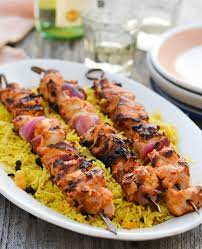 Baked Goods also available by Pre-order
RiverSong loaf - $4.43
Sourdough Loaf - $4.43
Cookies (chocolate chip, white chocolate macadamia, ginger molasses) - $12/dozen
Cinnamon Buns, Fudge Brownies - $10/6-pak
Scones – Cheese or Strawberry - $10/6pak
Homemade Pies (Apple, Cherry, Feature berry, Peach, Pecan)
Woolwich Maple Sugar tarts - $10/6
Artisan Ice Cream
"Vanilla Bean" Ice Cream
"Razzamatzz" – (Raspberry Gelato)
"Mango Tango" (Mango sorbet, hint of lime)
"Gord Brownie" (Vanilla with brownie chunks & chocolate drizzle)
"Chock the Monkey" (Banana Chocolate chunk)
"Tragically cHip" (Canadian Mint & Chocolate chips)
- $7.25/pint
Individual Portion Frozen Entrees (while supplies last) -only $9 each!
Please call to ask what's available this week!
Announcement: POUTINE PARTY ON THE PATIO!!
Thursday July 1, 2021
(Reservations recommend)
Ready to Heat Dinners July 1, 2, 3
(Takeout only)
Canadian Maple-Glazed Salmon or Chicken, served with Pilaf Rice, Summer veggie Medley
Family of 4 - $50 (Extra Meat portion $7.99) Family of 2 - $36
CONTEST: Post a photo of anything you've purchased from us between May-August with the hashtag #StJacobsEats and you will be entered to
win one of 8 gift baskets!
COOKING CLASSES ARE BACK – With Chef Duff Online (at home)
Makes a great Gift!
Choose From:
"Souper Soups & Sauces"
You and a friend will be led by Chef Duff to create a "Winter Vegetable" soup, "Mulligitawny" (Indian style Chicken Curry) soups, and flaky "Cheese Scones"
"Italian Dining I – Chicken Picatta"
You and a friend will be led by Chef Duff at create an authentic "Chicken Picatta" entrée, Homemade "Pasta Noodles", and "Salat Italiano"!
Class includes ingredients for 2 dinners, recipe package and instructional Video!
$60 for 2 people (Add $20 for extra diner)
YOU Choose start date and time!
Note: All Prices are subject to HST
THANK YOU FOR SUPPORTING SMALL BUSINESS!