CAFE
is open for takeout Wed. - Sat.
Weekly Lunch & Dinner Features, please see Home page for what's on this week!
Also have a line of changing individual frozen entrees, soups, and savoury pies
Homemade breads, pies and other baked goods.
Fresh Churned Ice Creams!
BEVERAGES
Coffee (Bottomless) $2.00
Tea (Bottomless) $2.00
Hot Chocolate $2.00
Espresso $3.25
Lattes – Vanilla or Chai $3.25
Premium Sodas $2.75
Mineral Water $2.75
Orange Juice $2.75
All prices subject to HST
By Request:
We will open for breakfast, lunch, or dinner outside of regular hours for a reservation of 10 people or more!
Our Hall is fully accessible!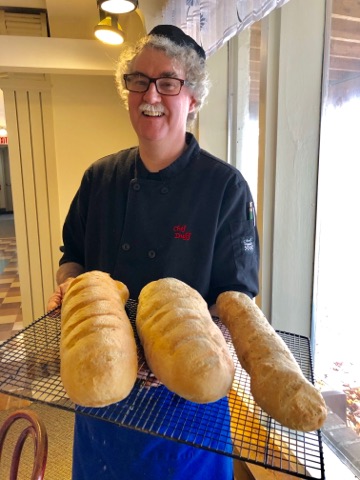 BAKED GOODS IN QUANTITY
Order Tuesday for Thursday pick up
Order Wed. for Friday pick up
RiverSong Loaf $4.43 ea
Sourdough Bread $ 4.43 ea
Pizza Dough (makes 1 x 12" pizza) $4.43
Whole 9" Pies (Apple, Cherry, Pumpkin, Pecan) $12.00 ea
Cinnamon Buns $10.00/6
Scones $10.00/6
(Cheese, Strawberry)
Turnovers (Apple, Cherry) $ 10.00/6
Brownies $10.00/6
Muffins $10.00/6
Maple tarts $10.00/6
Cookies $12.00/6
Birthday or Celebration Cakes (Chocolate or Lemon Raspberry)
9" Round (8-12 people) $20.00
Half Slab (20-25 people) $40.00
Full Slab (35+ people) $ 60.00