CAFE & PATIO Menu
are open for Dine-in or Takeout Wed. - Sat. at 9:00am
Thursday Nov. 24 – OPEN for Dinner from 5:00pm!
(American) Thanksgiving Buffet – Canadian Style!!
See "Dinner features" Page
Note: We will be closed this Friday the 25th for private event.
Full LUNCH Menu on "Café Menu" page on website www.chefduff.ca
LUNCH Features this Nov. 23-26
Soups of the day:
Leek & Potato
Feature Soup - $6.50
Sandwich of the day:
BBQ Sliced Pork on a Bun topped with Apple Slaw - $16
Pizza of the day:
Chicken, Bacon, tomato, motz & cheddar- $12.95
Full LUNCH Menu
SOUP DU JOUR
Better than the soup of yesterday, served with homemade bread & butter $6.50
GARLIC SOURDOUGH BREAD
6 Pieces topped with mixed cheeses, great for sharing $7.25
HOUSE GARDEN SALAD $7.95
Served Maple Balsamic
CLASSIC CAESAR $7.95
Real Bacon, Real Cheese, even Real lettuce
Add Grilled Chicken breast or Shrimp to any salad for only $4.99
IT'S ALL GREEK PASTA
Salad od Fusilli Pasta tossed with cucumber, peppers, onion, tomato, & Feta $15.00
SIDE BY EACH
Pair up a Bowl or Daily soup with either Garden or Caesar Salad $13.25
FRENCH FRIES
They're not actually French but we just call them that $6.50
CANADIAN FRIES $8.99
Canadian Cheese Curds, Secret Sauce, Sound familiar?
SANDWICHES
All Sandwiches are served with a choice of Homemade Soup, salad, or Fries.
THE BIG CHEESE
Three cheeses between 2 pieces garlic sour dough bread $15.00
Add Bacon $2.00
CHICKEN CAESAR WRAP
Like I said, it's grilled Chicken and Caesar salad in a wrap $16.00
TURKEY BURGER
Hand made & Grilled to perfection. $16.00
Add Bacon or Cheddar $1.00
BLACK BEAN BURGER
House made and "Beyond" any Veggie burger you've ever tried! $15.00
PIZZAS – 9" PERSONAL SIZE $12.95
Four Cheese 'n' Basil: Mozzarella, Brick, Cheddar, Feta, fresh Basil
The Carnivore: Pepperoni, Ham, Bacon, Sausage
Veg-Head: Mushroom, peppers, red onion, tomato
Kitchen Sink: Pepperoni, mushroom, Bacon, green pepper
Hawaii Five – O: Ham, Bacon, pineapple
Double Double: Double Pepperoni, Double Cheese
Add Soup, Salad or Fries to any Pizza for only $4
DESSERTS
Homemade Ice Cream
Ask about todays flavours - Cone or a Waffle Bowl $5.00
Slice O' Pie
Ask what we baked up today! $4.50
Add scoop of homemade ice cream $2.00
Chocolate Buttercream cake
Our chocolate-chocolate Cake! $6.25
BEVERAGES
HOUSE WINES
White Pinot Grigio 12.5% - 6oz glass $6.20
VQA 20 Bees Niagara
Red Cabernet Merlot 13% - 6oz glass $6.20
VQA 20 Bees Niagara
HOUSE BEER
Craft Lager 4.8% - US Pint $7.08
Waterloo Brewery
Amber 6.8% - US Pint $7.08
Waterloo Brewery
Dark Lager 5% - US Pint $7.08
Waterloo Brewery
Non- Alcoholic BEVERAGES
Coffee (Bottomless) $2.00
Tea (Bottomless) $2.00
Hot Chocolate $2.00
Espresso $3.25
Lattes – Vanilla or Chai $3.25
Premium Sodas $2.75
Mineral Water $2.75
Orange Juice $2.75
(All pricing is subject to HST)
By Request:
We will open for breakfast, lunch, or dinner outside of regular hours for a reservation of 10 people or more!
Our Hall is fully accessible!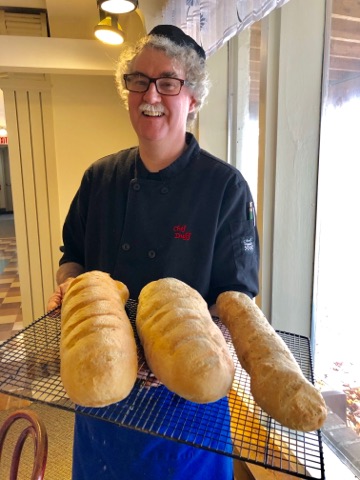 Birthday or Celebration Cakes (Chocolate or Lemon Raspberry)
9" Round (8-12 people) $25.00
Half Slab (20-25 people) $60.00
Full Slab (35+ people) $ 75.00